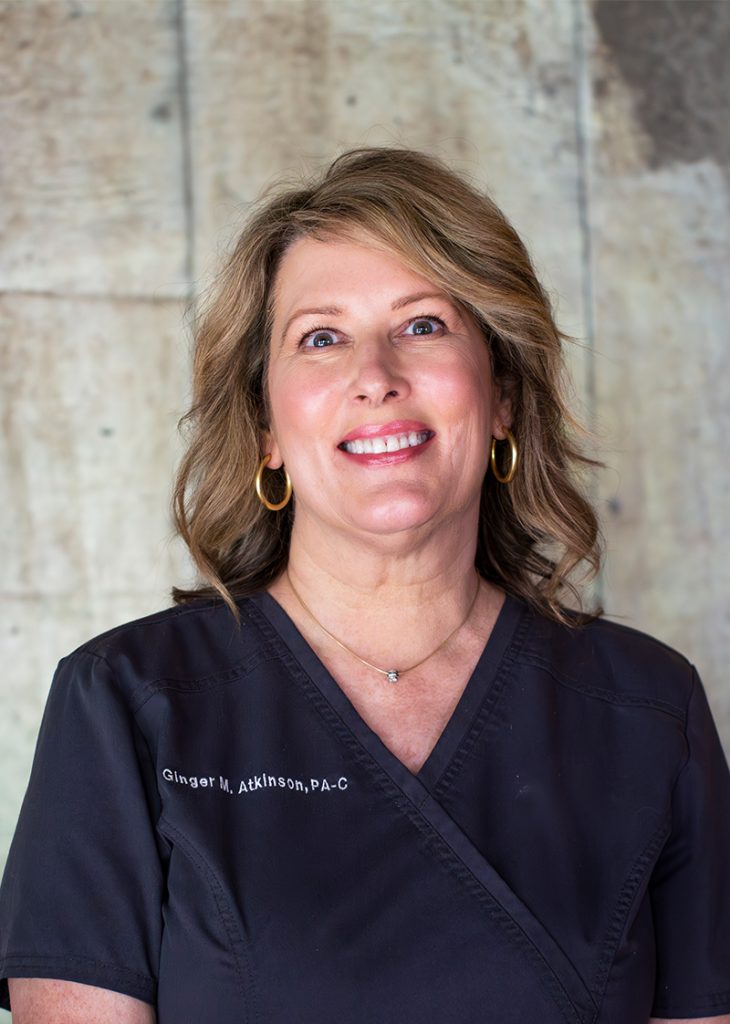 Ginger Atkinson

PA-C

(Cary | Raleigh)
A long-standing member of the North Carolina community, Ginger is a recognized and trusted Physician Assistant in Raleigh, with a focus on dermatology. She kick-started her journey in the medical field with a Bachelor's degree in Psychology from the esteemed North Carolina State University. Ginger further pursued her passion for medicine at Baylor College of Medicine in Houston, earning a Master of Medical Science degree in Physician Assistant Studies.
Known for her comprehensive approach, Ginger is a Raleigh dermatologist who relishes treating patients across all age groups. Her clinical interests lie in managing various skin conditions, including acne, psoriasis, eczema, and skin cancer surveillance, making her a go-to dermatologist in Raleigh for these concerns.
Ginger believes in the importance of patient education and customizes individualized treatment plans for every patient, ensuring tailored and effective care. As a board-certified physician assistant by the National Certification of Physician Assistants, and a member of the American Academy of Physician Assistants and the Society of Dermatology Physician Assistants, she upholds the highest standards of dermatological care in Cary and Raleigh.
Away from her Cary dermatology practice, Ginger loves spending quality time with her family and friends. Residing in Raleigh with her husband and three children, she enjoys travel and photography in her leisure time. Ginger's dedication to her patients and love for dermatology make her an essential part of the Raleigh and Cary community.
Meet Physician Assistant Ginger Atkinson at Dermatology and Skin Surgery Center Cary | Raleigh