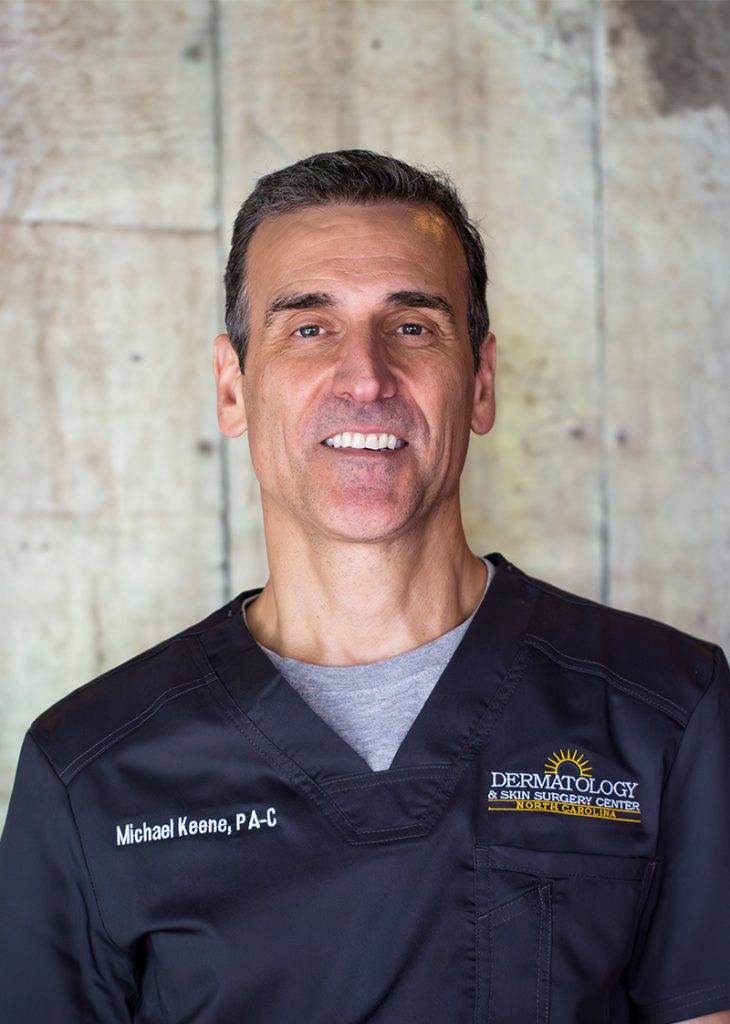 Michael Keene

PA-C

(Cary | Raleigh)
Originally from Seattle, Michael G. Keene is a seasoned Dermatologic Physician Assistant in Raleigh, respected for his broad expertise in dermatologic surgery and pediatric dermatology. He graduated with a BS in Chemistry, emphasizing Biochemistry, from Pacific Lutheran University in Tacoma, WA, where he earned the prestigious NAIA District One Scholar-Athlete Award and was nominated for Academic All-American in soccer.
In 1989, Mr. Keene journeyed to North Carolina to join the Duke School of Medicine Physician Assistant Program. He earned his Master of Health Science with honors and was the recipient of multiple academic scholarships, reflecting his commitment to medical excellence.
Beginning his medical journey in family medicine, Mr. Keene switched his focus to dermatology in 1998, a field in which he has been contributing significantly ever since. He is a recognized Raleigh provider, specializing in dermatologic surgery and pediatric dermatology.
That same year, he completed a PA Teaching Fellowship at Duke, serving on faculty within the Department of Community and Family Medicine. Over the past twenty years, Mr. Keene has lectured for the North Carolina Academy of Physician Assistants, Duke PA Program, and served on faculty at the Duke School of Medicine, further highlighting his influential role in the Cary and Raleigh dermatology scene.
As a respected member of the Society of Dermatology Physician Assistants, North Carolina Academy of Physician Assistants, and the American Academy of Physician Assistants, Mr. Keene is a dedicated advocate for continuing education and professional growth in dermatology.
In his tenure as chairman of the PA Alumni Steering Committee at Duke, he emphasized collaborative learning and progress in the medical community. His passion for medicine is shared by his family, with his wife, Georgina F. Keene, PA-C, recently retired from the Department of Obstetrics and Gynecology at Duke, and their daughter also expressing interest in the field.
As one of the leading Dermatologic Physician Assistants in Wake County, Mr. Keene is committed to offering top-notch dermatology services to the local community. His wealth of knowledge and experience in the field is a testament to his dedication to patient care and dermatological advancements.
Meet Michael Keene, a Dedicated PA-C at Dermatology and Skin Surgery Center Cary | Raleigh