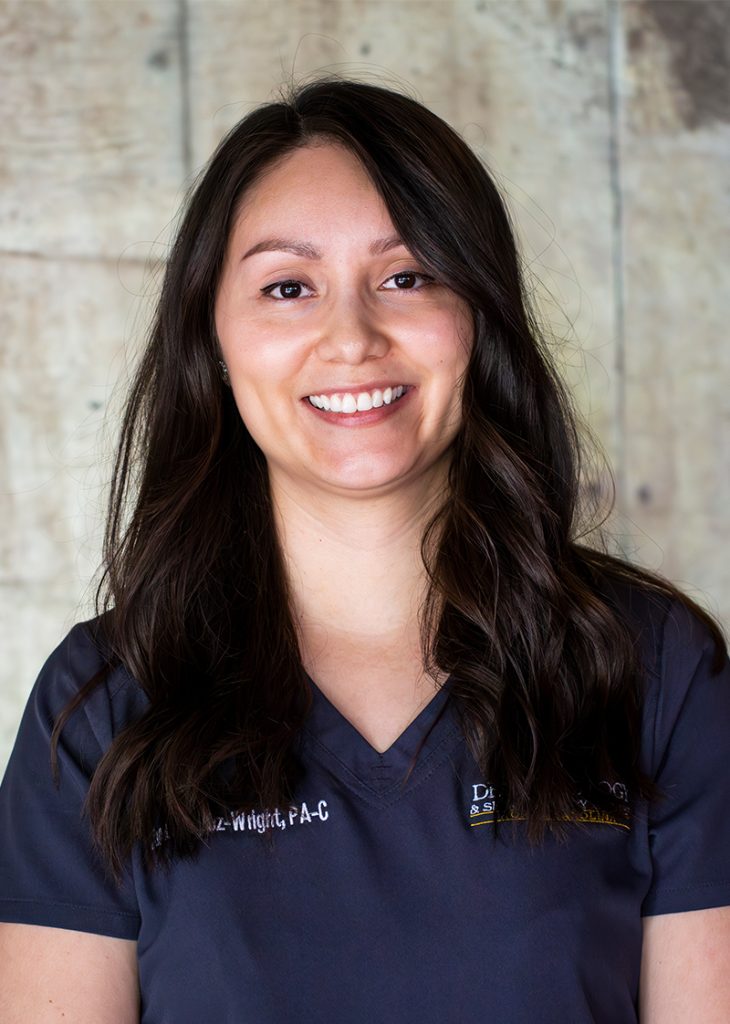 Janelle Lopez-Wright

PA-C

(Cary | Raleigh)
Hailing from the tranquil southern Colorado, Janelle Lopez-Wright, PA-C, is a distinguished Dermatologic Physician Assistant in Cary, North Carolina, offering unparalleled dermatology services to the community. Her journey in medicine began at the University of Colorado, where she earned a Bachelor of Science degree in Human Biology in 2015.
Following her undergraduate studies, Janelle honed her skills as a medical assistant at a private dermatology practice in Colorado Springs, Colorado. This experience deepened her passion for dermatology and inspired her to further her education.
Deciding to specialize in dermatology, Janelle completed her Master of Health Sciences in Physician Assistant Studies at the prestigious Duke University. Prior to joining our dedicated team at the Dermatology & Skin Surgery Center in May 2023, Janelle practiced in family medicine, providing a holistic approach to her current dermatology practice.
Janelle has a particular interest in cosmetic dermatology, and she continuously updates her knowledge and skills to offer the latest and most effective treatments to her patients in Raleigh.
Outside the clinic, Janelle cherishes her time with her husband, Jonathan, and their lovable rescue dog, Zip. Her personal interests reflect her vibrant personality; she relishes learning to cook traditional Mexican food, exploring the outdoors, and engaging in DIY home projects, including learning how to build furniture.
As a devoted Physician Assistant Dermatologist in Raleigh, Janelle's commitment to providing excellent patient care and her extensive knowledge in dermatology make her an integral part of the team.
Meet Janelle Lopez Wright, a dedicated Physician Assistant at Dermatology and Skin Surgery Center in Cary, NC