Hives: Overview
What are hives?
Hives are welts on the skin that often itch. These welts can appear on any part of the skin. Hives vary in size from as small as a pen tip to as large as a dinner plate. They may connect to form even larger welts.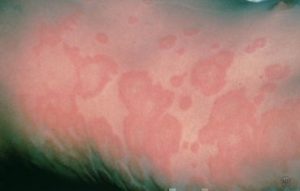 Hives
An allergy to a medicine can cause hives.
A hive often goes away in 24 hours or less. New hives may appear as old ones fade, so hives may last for a few days or longer. A bout of hives usually lasts less than 6 weeks. These hives are called acute hives. If hives last more than six weeks, they are called chronic hives.
Acute hives often result from an allergy, but they can have many other causes.
The medical term for hives is urticaria. When large welts occur deeper under the skin, the medical term is angioedema. This can occur with hives, and often causes the eyelids and lips to swell.
If this occurs, the person needs emergency care right away.
Image
Image used with permission of the American Academy of Dermatology National Library of Dermatologic Teaching Slides.
© 2023 American Academy of Dermatology. All rights reserved. Reproduction or republication strictly prohibited without prior written permission. Use of these materials is subject to the legal notice and terms of use located at https://www.aad.org/about/legal