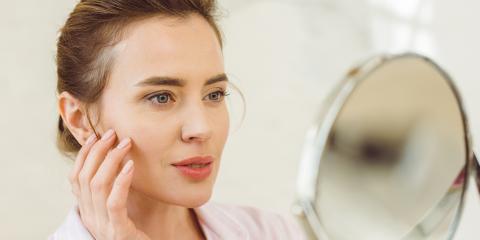 What Is Rosacea & How Is It Treated?
Rosacea is a chronic skin condition characterized by facial redness that eventually progresses into raised bumps or pimples, or even skin thickening, over time. While the condition can be uncomfortable, the most troubling effect is the impact it has on a person's self-esteem and confidence level. When visiting a dermatologist for this disorder, you're likely to be recommended one of the following treatments.
3 Dermatologist-Approved Treatments for Rosacea
Medications Medications used to treat rosacea vary depending on the severity of symptoms. Some topical solutions help to minimize blood vessels, which decreases redness and inflammation. You may also be prescribed isotretinoin, which is a drug commonly used for severe acne. In some cases, your dermatologist may recommend antibiotics to be taken orally, which can also reduce swelling.
Sunscreen Sun exposure can exacerbate rosacea symptoms in some people. Accordingly, wearing sunscreen every day is urged, particularly those products that offer broad-spectrum protection at SPF 30 or higher. In excessively sunny weather, try to limit midday exposure, when the sun is at its peak, while also shading your face with a wide-brimmed hat.
Avoid Triggers You should also work to avoid anything that has triggered a flare-up in the past. This can include hot beverages like coffee and tea, vigorous exercise, alcohol, spicy foods, hot baths or showers, and caffeine. Rosacea flare-ups can also be caused by stress, so make sure you're managing your stress levels on a day-to-day basis.
If you're experiencing symptoms of rosacea in Pinehurst, Asheboro, Thomasville, Albemarle or West End in NC and surrounding areas, Asheboro Dermatology & Skin Surgery Center is here to help. These dermatology providers are equipped to provide a wide range of skin treatments, including those suited to redness and irritation caused by chronic conditions. They can also treat acne, eczema, and psoriasis as well as examine skin growths and moles to determine whether further treatment is required. they also screen and treat all types of skin cancers providing Mohs Surgery. To get healthy and beautiful skin, schedule a consultation by calling the Asheboro office at (336) 625-8410, the West End/Pinehurst area practice at (910) 673-8410. the Thomasville office at (336) 475-8410 or the Albemarle location at (704) 982-8410. You can also visit them online to access helpful patient info.