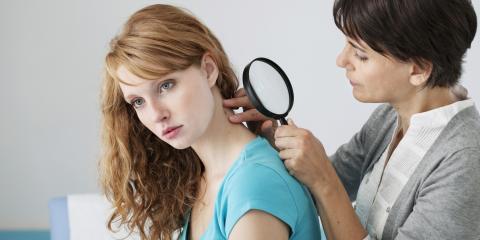 Skin tags are tiny benign growths on the skin and most commonly appear on the armpits, thighs, eyelids, neck, and groin. Some tags are smooth and round while others are more wrinkly. They can resemble the color of your skin or be a little darker. These tags are usually nothing to worry about and can just be left alone. However, if your skin tags bother you, there are skin treatments that can remove them.
Causes of Skin Tags
The friction that occurs when skin rubs against skin is what causes skin tags in most people. People who are carrying excess weight are more likely to develop skin tags because they have more folds in their skin, which can create friction. Older people, pregnant women and diabetics also have a higher risk of developing this skin condition.
Skin Treatments for Skin Tags
Skin tags often don't need treatment and can even rub off on their own. However, if your skin tag hurts, frequently gets caught on jewelry, gets irritated or if you just don't like the appearance, a dermatologist can remove it for you. Cryotherapy is one of the most common skin treatments used to remove skin tags and involves freezing the tag with liquid nitrogen. Skin tags can also be burned off with an electric needle or cut off with scissors or a scalpel. The area that received treatment may be sensitive for a few days. Keep the area clean and don't expose it to the sun. Don't try to remove skin tags at home. Doing so can lead to bleeding, pain, and infection.
If you want to get a skin tag removed, visit a dermatologist. Dermatology & Skin Surgery Center in Seven Lakes, North Carolina has provided skin treatments for eczema, acne, melanoma, skin cancers and other skin conditions since 1997 and are dedicated to helping their patients achieve beautiful and healthy skin. The providers at this dermatology center will carefully explain every treatment they are about to perform and answer all your questions. To schedule an appointment, call the Asheboro office at (336)-625-8410, Seven Lakes location at 910-673-8410, Thomasville at 336-475-8410 and Albemarle at 704-982-8410. Please visit their website for more information about services offered including Mohs surgery for skin cancer treatment.