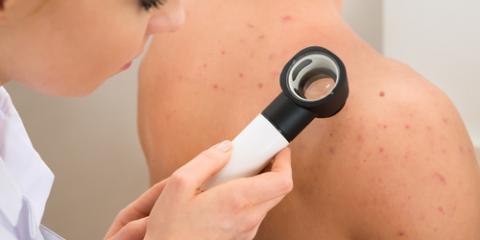 Dermatologist Shares 5 Tips to Clear Up Back Acne
Acne doesn't just affect your face and it's not a problem that is limited to teenagers. Many adults experience pimples on their back. Whether it's a few blemishes or a full-blown breakout, the experiences can be uncomfortable and frustrating. Luckily, there are some steps you can take to treat it. Here, the doctors at the Dermatology & Skin Surgery Center in West End, North Carolina share their insights into banishing back acne.
5 Dermatologist-Approved Tips to Get Rid of Back Acne
Choose Skin Care Products Wisely Steer clear of antibacterial soaps and abrasive scrubs, which can dry out skin and worsen acne. Stick to oil-free, non-comedogenic washes and cosmetics. When it comes to lotions, opt for fragrance-free types.
Change Your Bedding Your sheets and pillowcases are full of dead skin cells and bacteria, which can contribute to breakouts. To avoid this problem, change the sheets once a week, and switch pillowcases twice per week.
Beware of Workout Clothes Sweaty gym clothes are a surefire way to incite a breakout on your back. Wear loose clothing made of cotton, and shower and change as soon as possible after you're finished. If you can't rinse right away, use an oil-free cleansing cloth to wipe sweaty skin.
Use Over-The-Counter Treatments Find a foam wash with the active ingredient benzoyl peroxide. Try to stick to lower concentrations of 5.3%, which is less irritating to the skin. Use it in the shower, letting it sit on the affected area for a few minutes before rinsing. You can also use a retinoid product to treat breakouts. This treatment is best applied and left-on after a shower and before you go to bed.
See a Professional If your back acne doesn't clear up after six to eight weeks of treatment, talk to a dermatology provider. They can recommend additional steps to avoid irritating your skin, and if need be, they can prescribe stronger, medicated products and cleansers and perhaps a systemic medication.
If you need professional acne treatments, the Dermatology & Skin Surgery Center is happy to help. With locations in Thomasville, Albemarle, Asheboro, and West End, NC, they serve all surrounding areas including Pinehurst and Moore County. Their comprehensive services include MOHS treatments, mole removal, and skin cancer treatment. For more information on their services, visit them online. To schedule an appointment, get in touch with one of their offices. For the West End office, call (910) 673-8410; Asheboro, call (336) 625-8410; Albemarle, call (704) 982-8410; and for Thomasville, call (336) 475-8410.